AMUE relies on SAP Enable Now for its E-learning production with BAW
Le 28 November 2022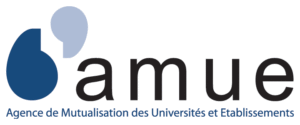 Mission : Implementing the right tools to develop an e-learning offer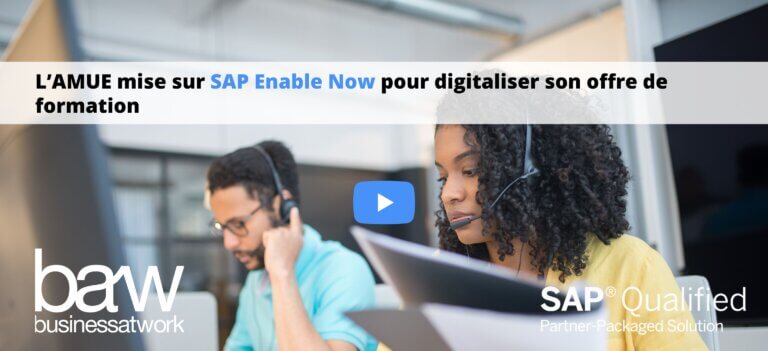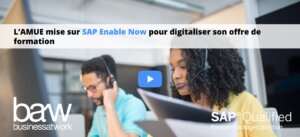 Business Expertise: Leading the transformation of the company
Industry: Public Sector 
Client: 
The agency for the mutualisation of universities and higher education or research establishments is a public interest grouping (GIP). It offers its members 16 collaborative software packages in 4 areas: HR, finance, training and research.
260 training courses are offered to approximately 2000 trainees. 
Context:
As part of its digital transformation, the AMUE would like to offer an e-learning training program to make it easier to enter the job market, provide information on recurring operations, carry out the necessary pre-requisites for face-to-face training at a distance, etc.
Mission: 
Assistance in mastering SAP E.N. On Premise 
Technical implementation: technical scoping, drafting of implementation procedures, verification of technical prerequisites, etc.
Functional implementation: functional scoping, workshops to collect parameters and draw up production rules – authorization guidelines
Training of the entire project team: authors and functional administrators
Support for eLearning production
Assistance in the development of the training course: creation of summaries and storyboards 
Help with the production of e-Learning: templates, animated and interactive pages, quizzes, tutorials, exercises, tests, operating procedures 
Assistance with the integration of e-Learning in the Moodle LMS (SCORM standard) 
Mission Duration: 5 months
Challenge : Empower teams to create their next e-learning project 
Results : 
Validation by the representative bodies of the members' business sector functions of the strategy of diversifying the AMUE's training offer with eLearning

The 10 pilot learners approved the SIFAC eLearning (SAP GUI) during the test phase 

Trained teams who took control of the SAP Enable Now solution and produced 3 eLearnings: SIFAC (SAP ECC Finances), SIHAM (HR Access) and EVRP (internal application) during the year of our mission