BAW wins the innovation prize at the ESN-ICT awards presented by Numeum and KPMG
Le 10 October 2022
NUMEUM & KPMG reward Business At Work with the« INNOVATION » award. 
Last Thursday, the 5th edition of the Rendez-vous of ESN (Entreprise de Services Numériques) & ICT (Enterprise Information and Communication Technologies »), was held, a reference event for digital and innovation players, organised by Numeum & KPMG.
On this occasion, the winners of the ESN & ICT Trophies, which reward the best 2022 initiatives in the market, were announced.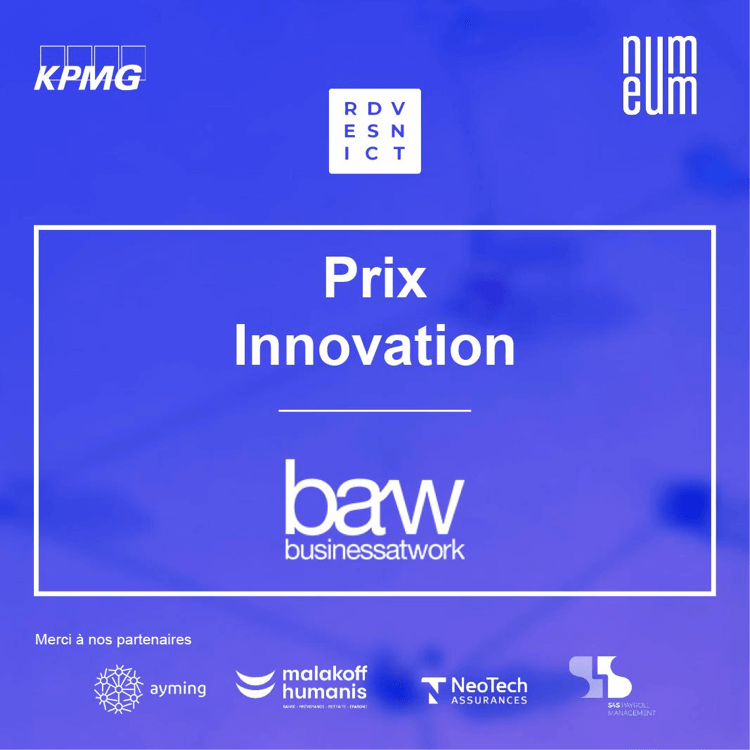 Business At Work recognised at the 2022 ESN & ICT Awards 
This year, Business At Work, a player in the field of consulting and digital transformation of the major support functions of organisations (Finance, HR, IT and Supply Chain), has won the Innovation Trophy. This award recognises the innovation approach pursued by the company since its creation. This strategy combines Open Innovation and agility and, from 2016, was called "BK" for Business Knowledge, in order to unite and mobilise all the company's team members around its innovation approach.
« We are proud to share the 2022 Innovation Trophy with all our employees, as well as with our clients and partners. This award recognises the collective work accomplished and reinforces our strategy of mobilising all the players in the digital and cloud sectors in an active innovation dynamic to effectively support the transformations underway at our clients' sites », says Frédéric Garnier, President of Business At Work..
Business Knowledge: Uniting for innovation
Since its creation in 2000, Business At Work has pursued a growth model based on three main activities: consulting and support, integration of business technology solutions, and support and expertise. Innovation is a key factor in the company's development and is part of its employer brand, which unites all of its internal employees and the players in its ecosystem, customers and partners, around its innovative "BK" approach.
"BK" capitalises on business know-how and expertise, both internally and with stakeholders, to bring out new value propositions for digital transformation (products and services), through the development of new partnerships, new markets but also new skills. Since its launch in 2016, "BK" has mobilised 5,000 man-days/year to monitor 140 innovation topics, 15 of which have resulted in innovative offers launched on the market.
« Developed with a business logic in mind, this approach is part of a desire to mobilise an entire ecosystem around a dynamic of innovation in order to provide concrete value propositions that benefit everyone and are consistent with the Business At Work promise : « Making IT work for People » ! », concludes Frédéric Garnier.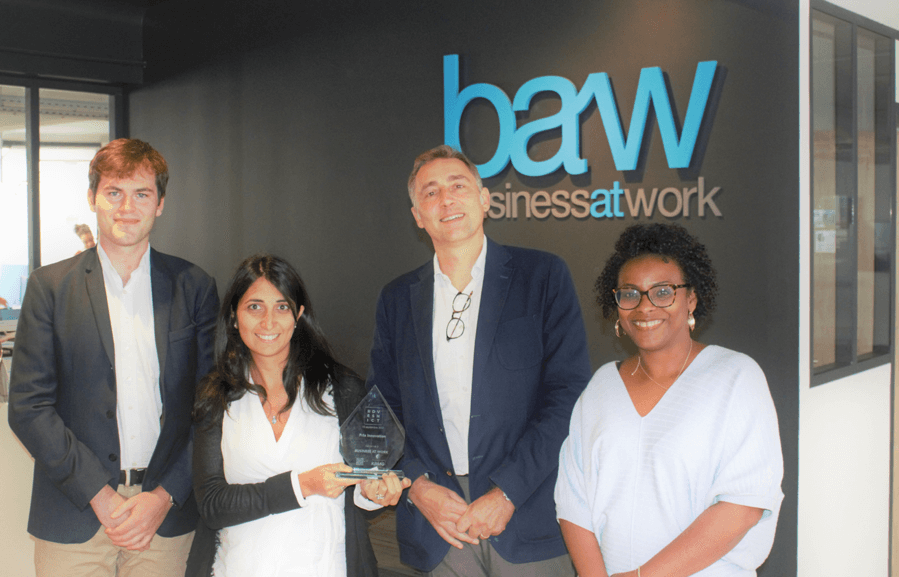 About Business At Work – www.b-a-w.com
Business At Work is a digital services company specialising in end-to-end support for transformation projects in the Finance, HR, IT and Supply Chain departments of large companies, SMEs and public organisations.
Present in the Top 100 of the "Etude Grand Angle ESN & ICT 2020" ranking carried out by Syntec numérique and KPMG France, Business At Work is dedicated to improve the operational performance of its clients by leveraging technology and digital technology via its three business lines: Consulting & Support, Solutions Integration & Deployment, and Application Expertise & Service Centres.
Business At Work stands out in the market thanks to a strong innovation dynamic, combined with cutting-edge expertise, supported by active partnerships with the major technological players in the market: SAP, Oracle, IFS, ANAPLAN, or even AWS and Microsoft Azure.
Its 300 consultants combine strong business, IS and technological expertise with rigorous and effective methodological approaches.
With offices in Paris, Caen, London and Mauritius, Business At Work has a turnover of €34 million in 2021.
Contact Presse
Replica Agency – Isabelle Laville